What happens to all the wood used to build old buildings, tools, and structures? Do we just throw it out and forget about it? That's how it happens some of the time, but you can help to make those things useful again by upcycling old wood. When you re-use wood for a new project, it's called reclaiming the wood, and it's great for the environment! With that in mind, I want to show you a few of my favorite DIY reclaimed wood projects from around the web.
1. Wine Rack
What's better than having a beautiful place to store and display your wine at the same time? This wine rack is made from reclaimed wood and metal bolts. It has a rustic, yet modern feel that will blend well into most kitchens today. The design given can hold up to 5 bottles of wine comfortably.
2. Framed Mirror
Mirrors add a beautiful touch to your home décor, but they're also typically a bit pricey. That is, unless you make your own vintage reclaimed wood mirror frame! This project ends up with a beautiful and sturdy wood frame for any mirror of your choice, but it's preferred to use a tall, floor-length mirror.
3. Serving Tray
Reclaimed wood projects don't have to be extensive or turn into centerpieces in the home. You can also do something small, but practical like this gorgeous oak serving tray. It has leather handles on either side to make it easy to serve breakfast, tea, or snacks anywhere in your home.
4. Couch Arm Tray
Why reach all the way for a distant end table when you could create your own space to rest a mug or plate on the couch arm? This cute tray makes a good addition to a space that's so frequently used as the family room. It also adds some much-appreciated flat space without taking up too much of the room.
5. Mail Shelf
Although it's set to be a great mail shelf, this will wall space makes for a great anything shelf! It's good at holding all the little things you might need when you're coming in or out of the house, and it has small racks to hang towels, coats, rags, aprons, or more from the bottom. Do with it what you will, but I think it's a practical and beautiful little piece for any home.
6. Pallet Porch Swing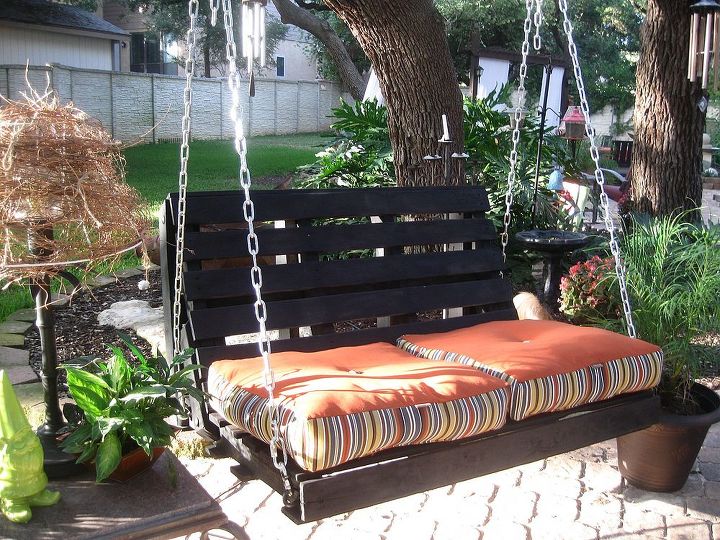 Old pallets are usually pretty easy to come by if you live in an area with any sort of industrial park. Here's a wonderful set of plans for a large porch swing made entirely from pallet wood. All you need is two pallets and a few tools to get started with this project. The result will be a comfortable and attractive swing to enjoy on your porch.
7. Wooden Stars
Need some decorating ideas? These rustic wood stars are a neat idea for homemade Christmas decorations or for a country touch to your wall art. You can use these stars for all sorts of things around your house, and they fit in well with any other nature items you have in décor, like pine cones, greenery, or berries.
8. Garden Walking Path
Stepping stones look nice in the garden, but you can do something a little less common and use wood instead. These reclaimed wood pathways can be made anywhere around your yard. They're inexpensive, durable, and they look absolutely fantastic around a garden or between walking spaces.
9. Kitchen Island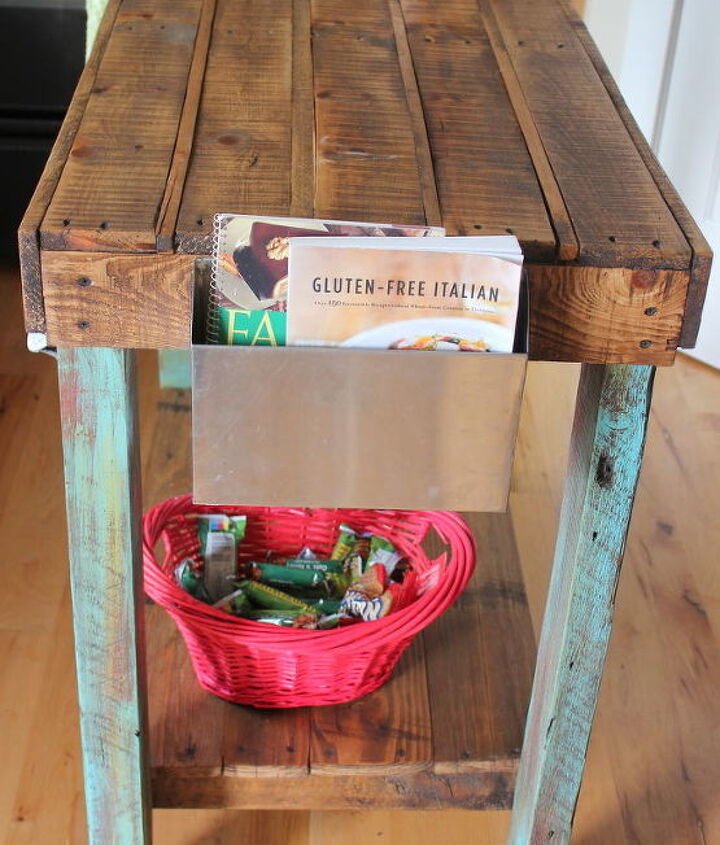 Here's a project that may take a little more time, but the results are worth it. If you need a little island table for your kitchen, you can easily make a very functional table from a bit of reclaimed wood. Add a few extra accessories around the edges, like a bottle opener and a paper towel holder, and you'll have the best kitchen island around!
10. Jewelry Holder
No one likes necklaces and bracelets getting all tangled together inside a jewelry box. Instead of dealing with that every time, and never being able to see exactly what you have to wear, make a fun jewelry holder from old reclaimed wood. It's a functional way to solve your jewelry storage problem without spending too much money or getting too complicated.
11. Tall Planter
Gardening is way more fun if you get to do it on your terms. A raised bed planter like this one is great for putting a bright, flowery touch around your porch or balcony without making a big mess. The project just needs a few pieces of reclaimed wood, and you'll be well on your way to a tall, bright flower planter.
12. Birch Wood Coat Rack
Coat racks don't have to be limited to tall metal stands shoved behind the front door. This coat rack cleverly combines a piece of reclaimed wood with a few branches from your average tree. The result is a striking and unique coat rack that does its job well and looks fantastic on your entry wall.
13. Shim Wall Art
While it's not a functional shelf or anything else, this painted wall art can become a centerpiece statement on your walls. It's bright, colorful, and full of character. You can choose the colors you want, and you're not really limited by what this designer did. So, flex your creative muscles and get started on a new project.
14. Simple Sofa Table
New furniture straight from the shop isn't always necessary. You can make a lot of simple, yet beautiful additions to your home with a few old wood beams and a set of tools. Here's a simple, useful sofa table that's very easy to make and will stick with you and yours for decades.
15. Bed Headboard
Headboards are a lovely way to add something special to a bedroom. You can follow these directions to end up with a rustic headboard for a double bed. It's a simple project to take on, but in the end you'll make your bed look much nicer than it did originally!
16. Moose Head Artwork
Sure, moose head art isn't for everyone. But, if this project strikes your fancy at all you should know it's easy to do and doesn't take a lot of anything to get it done! You can make a unique and special decoration for your home that's unlike anything you're likely to find in your neighbor's living room.
17. Pipe and Wood Coat Rack
A cute little wall hanging that's also very useful, this reclaimed wood coat rack uses pipe valves as handles. So, you'll be keeping a few different building materials out of the junkyard while creating a sturdy rack to hang a few coats, hats, gloves, aprons, or anything else.
18. Candle Holder
Probably one of the simplest entries on this list, this makes a great centerpiece for a dining table, coffee table, bookshelf, entry table, etc. You can fit a line of your favorite scented candles or change up the candles to fit the seasons. You'll be able to wipe any wax drips easily and keep using this gorgeous candle holder for years.
19. Wall Planter
Herbs, decorative succulents, and small potted plants can be a wonderful addition to your home. Nothing looks greener than real greenery hanging from the wall! This reclaimed wood hanging wall planter is a clever way to keep a vertical garden right in your home. You can use it inside for a live décor anywhere or put it outside to get more variety in a small outdoor space.
20. DIY Clock
You'll need a little more DIY ambition to get this done right, but it's worth the effort. Get ahold of a few good scraps of reclaimed wood, clock parts, and a few tools to get started. You'll wind up with a beautiful handmade clock you can proudly display anywhere in your home.
21. Drum Outdoor Planter
Great for patios, decks, balconies, or other occupied outdoor spaces, these reclaimed wood drum planters are a stunning and lend a natural look for you space. They're simple to make and last for years, plus they can hold all your beautiful plants in an equally beautiful container.
22. Wood Box Centerpiece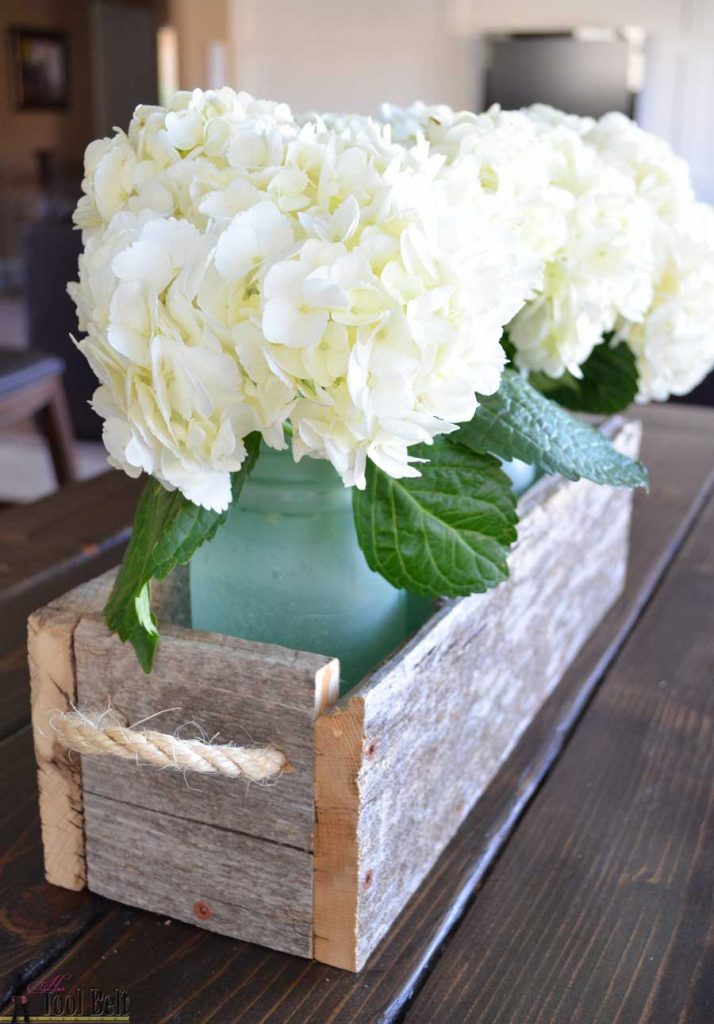 If you need a simple decoration idea, this is about as easy as it gets for centerpieces. The designer here put painted mason jars with flowers inside, but you could put a variety of creative ensembles into your new reclaimed wood boxes without trouble. The handles on either side are a nice touch for convenience and rustic style.
23. Slanted Wood Coffee Table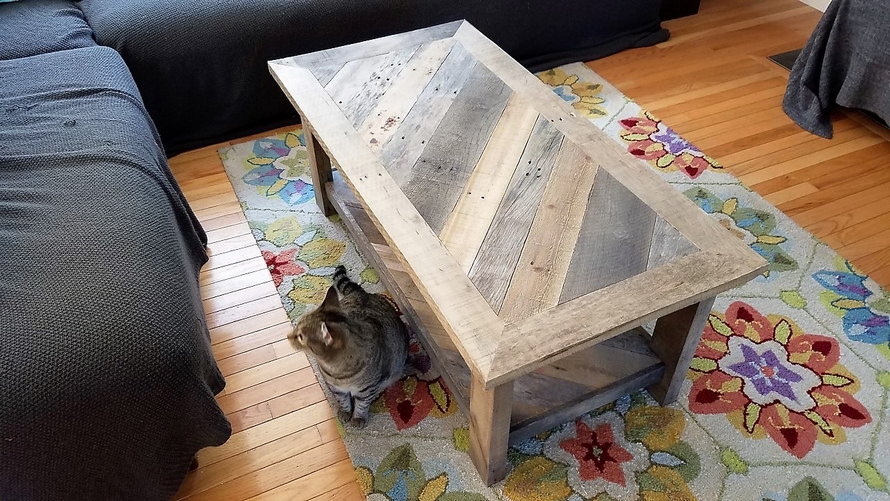 By far one of my favorite entries on the list, this coffee table has contrasting lines of wood and patterns that make it stand out as one-of-a-kind in your home. It's sturdy and elegant without looking distressed or rustic. This is an elegant table that you can repurpose as you see fit.
24. Tilt-Out Trash Can Hider
No one likes the smell of a full trash can. So, here's a creative way to tuck your trash can away without making it inaccessible. You won't have to look at or smell a trash can all the time, but you'll quickly be able to take up the full bags whenever you need to refresh the place.
25. Toilet Paper Holder + Shelf
Bathroom storage is notoriously limited in most households. Here's a project that takes care of two problems in one. It holds your toilet paper comfortably within reach, but also offers you a few extra places to put your bathroom items without having to open more space around the room.
Conclusion
Reclaimed wood can be a great addition to your home, if you know what to do with it. Hopefully, these 25 easy DIY projects will get you inspired to save wood from the next scrap pile you see!